In the spirit of the season, I've rounded up some feel good cause campaigns with holiday themes. These campaigns provide an opportunity for social media fans to take a small digital action in support of a worthy cause – often of the participant's own choosing. I hope they inspire your generosity. Happy Holidays everyone!
#ZuoraForGood
Network for Good is pleased to partner with Zuora for a creative corporate giving campaign that is being run completely on Twitter. The idea is simple: by tapping into the virality of Twitter, Zuora hopes to encourage as many people as possible – as quickly as possible – to participate. And, there's another twist. Zuora is actually providing all of the funds itself. Which will total $10,000: people have the opportunity to give away $10 to a charity of their choosing with the goal of reaching 1000 of these donations. To learn more or participate, click here or join the conversation at http://twitter.com/#!/search?q=%23ZuoraForGood
SnagFilms Secret Santa for Good Sweepstakes

Has a film inspired you to make a difference? SnagFilms celebrates the power of film to change the world. Join them in supporting the organizations that work tirelessly to make the world a better place. Become a "Secret Santa for Good!"
In the spirit of the holiday season, SnagFilms is giving away charity gift cards to support the worthy causes of 10 lucky winners. Simply enter your name and email to participate in the "Secret Santa for Good" sweepstakes. Each randomly chosen winner will receive a gift card, with a stored value of $100, to be redeemed as a donation to one cause of his or her choice on Network for Good or GlobalGiving. To learn more or participate, click here or visit http://www.snagfilms.com/sweepstakes
Capital One & Feeding America Facebook Campaign
This December, Capital One will donate $2 to Feeding America for every "Like" their campaign status update receives, up to $25K. Help Capital One feed families in need this holiday season! To 'like' the post, please visit https://www.facebook.com/capitalone (scroll down to the status update from December 16th).
Feeding America is a national network of more than 200 food banks serving every state in the United States. Looking for other ways to give? Contribute to your favorite charity today by donating cash or your No Hassle Rewards through the Giving Site with your Capital One credit or debit card! We cover the transaction costs, so 100% of your donation reaches your charity. Learn more at www.capitalone.com/give. Don't forget to donate before midnight on December 31st to count your gift in the 2011 tax year.

•
Email to a friend
•

•
I just finished Brian Solis's fabulous new book The End of Business As Usual: Rewire the Way You Work to Succeed in the Consumer Revolution. While I enthusiastically recommend a thorough read, I've extracted some core tenets most relevant to this audience of cause marketers and social responsibility practitioners.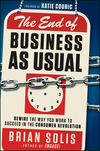 Access to information is ubiquitous and we've all become adept at sharing content we find interesting, entertaining or useful. But as our social networks grow and we plug into more and more digital streams, that access to information becomes overwhelming. Strong brands in the network economy realize that the way to win consumers is to cut through that clutter and provide the context: the right information at the right time on the right channel. Consumers with social media savvy are seeking the best connections and relationships, not the most number of friends, brand affinities and status updates. These are the consuemrs who, if they champion your brand, are worth a lot more than a 'like' because they will endorse your brand and promote it to their curated, nurtured and quality network of people more likely to heed their advice.
"…connected consumers understand that through the concentration of connections, their social experiences, digital literacy, and the value of content that populates their streams are intensified."
If your company wants to win the context game, it's time to reavaluate your social strategy to be less about you and more about your community. Connected consumers seek relationships based on mutual value, so your social content, brand attributes and offers must be relevant and provide value.
Think shared experience and conversation not static content.
Think social proof (let consumers see what their friends 'like') not expert advice.
Think trustworthiness not being the latest fad.
Think co-created, evolving brand identity not top=down branding and templated customer experience.
This approach is particularly well-suited for cause marketing campaigns and other social good programs. By aligning your brand with a cause or allowing your employees to express their affinity for their favorite causes your company is already connecting people's passion for doing good with your brand. As we've discussed on this blog before, the 'helper's high' and other positive brain effects of doing good are profound and can certainly enhance people's experience with a brand that helps them achieve those psychological benefits. But more importantly, a cause campaign gives your brand a meaningful and relevant platform from which to engage with consumers and employees in a true social interaction. Invite consumers to share stories about how a cause has affected their lives. Provide social proof leaderboards and thermometers to demonstrate impact. Invite your network to nominate causes with personal meaning to them. The possibilities are endless. If you want to test your wings in the network economy, there is no better pilot than a cause campaign.
Now that you are ready to jump into the exciting and evolving world of brand community building, here are some guideposts to keep you on track. Brian Solis has adapted David Armano's "4 Cs of Community" to include social commerce – meeting the need or desire to purchase (or donate) within the social interaction. As you adapt your social strategy to be more relevant and contextual, keep these Cs in mind to guide your approach. Everything you do in the social realms should drive:
Content (creation and curation)
Conversation
Context
Continuity
Social Commerce

•
Email to a friend
•

•