---
Our friends at YourCause create weekly insightful profiles of cause marketing campaigns. Here's their latest edition, which originally appeared on the YourCause blog. YourCause is a provider of global employee engagement solutions. You can learn more about YourCause's CSRConnect platform and get additional CSRinsights here.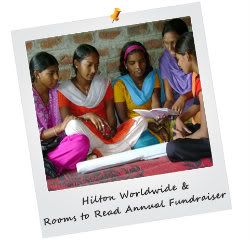 Company: Hilton Worldwide
Cause: Education
NPO Partners: Room to Read
Website: www.roomtoread.org/maymatch
Program of Action
Hilton Worldwide is participating in Room to Read's Annual Spring Fundraising campaign by supporting the Girl's Education program and matching all donations, up to $150,000, through May 31st. Each donation amount has an assigned gift that will be donated to a young girl. For example, a $50 donation will provide a young girl with a bicycle to get to school or $100 will give her the opportunity to attend an academic support camp.
Hilton Worldwide began their partnership with Room to Read this past January in India and pledged to establish thirty new school libraries over the next three years. In addition, Hilton Worldwide aims to gain participation from more than 75 girls in the Girl's Education Program and publish six local-language children books that will be distributed to the network of libraries and NGO partners in India. Not to mention, Hilton Worldwide is expanding their partnership to support the Girl's Education Program in Cambodia, Laos, and Vietnam.
Best Practices
Hilton Worldwide stays committed to supporting partners, employees, and consumers internationally by participating with organizations in multiple countries where they do business. The expansion of partnerships provides participating individuals the opportunity to contribute and help make a difference in their local communities. Additionally, Hilton Worldwide forms partnerships that are consistent with their responsible business practices and cause focus. The partnership aligns perfectly with Room to Read program mission and Hilton Worldwide's purpose of creating opportunities for individuals to reach their full potential.
Along with supporting international causes, Hilton Worldwide targets an audience of women that may feel emotionally connected to the program's efforts. The program focuses on young girls that women, teens, or children feel linked to based on shared experiences. According to research, women give to charity at a higher rate than men and demonstrate an increased level of cause-awareness in their high levels of philanthropic giving.
Incentives are provided to individuals in that Hilton Worldwide matches all donations contributed to the Girl's Education Program. This approach not only motivates consumers but also Hilton Worldwide employees to donate any dollar amount and know their gift is providing double the impact. A 2010 Cone Cause Evolution Study reported that 81% of employees want to get involved in their company's cause-related efforts through matching gifts. This is a great incentive to get everyone involved.
Program Outcome
Hilton Worldwide and Room to Read began their partnership this past January and have committed to supporting the Girl's Education Program in multiple countries over the next three years. We encourage you to watch, share, and support the program and dedicate your gift to young women across Africa and Asia. Visit Room to Read website and contribute your gift today, the program ends May 31st.
Full disclosure, I used to work for The Boston Consulting Group (BCG) in their Innovation, Marketing and Communications group, and am pleased to share their insights on social impact, employee engagement and consumer marketing on this blog. You can read about new BCG insights on employee volunteering from a post earlier this week. The following is a guest post from Network for Good's CSO & COO, Katya Andresen and is adapted from an article that originally appeared on Katya's Nonprofit Marketing Blog.
The Boston Consulting Group has some interesting new research on millennials, including who they are, what they want and how to talk to them.
The highlights? Among the most interesting findings is that millennials - who were taught to recycle in kindergarten - are more likely to take certain socially conscious actions during their daily life. They are apt to buy products that support their principles and more likely than other generations to spread the word about a cause campaign or participate in fundraising events. They are highly social creatures online (and off) are more likely than others to speak up online, whether it's to rate a product or upload content. Millennials expect companies to care about social issues and reward those who partner with the right causes, says the report.
On the other hand, their affinity for causes doesn't necessarily translate into higher levels of volunteerism. Millennials are slightly less likely to volunteer their time than non-millennials (31 to 26 percent). But that's still one in four who will give their time. Don't write them off! They certainly view themselves as more active than others think they are:
The report notes another important universal quality of millennials: they are distrustful of corporate messengers and more inclined to believe their friends and peers. Of course, not all millennials are created the same. The report profiles several typical "types."
The bottom line? Make it easy for this generation to spread the word about your cause marketing initiatives and reach them through messengers they trust - their peers. And as the report says, millennial attitudes are early indicators of more widespread future trends. These folks will someday be your brand loyalists - or not - depending on how well you understand them and how well you engage.
Full disclosure, I used to work for The Boston Consulting Group in their Innovation, Marketing and Communications group.
"The key is to create a varied, equal-opportunity program that appeals to the diverse skills, interests, and availability of all employees at all levels of the organization." – Brenda Thickett, BCG

Recently, the Boston Consulting Group released the publication "Designing Corporate Volunteer Programs to Create Value" to advise companies on how to build more value – for the company, employees, nonprofits and the community – out of employee engagement initiatives. The report identifies four factors to consider when designing a meaningful volunteer program.
Set a clear mission and goals
In order to be sustainable and relevant to a broad base of employees, a volunteer program must work to achieve established objectives, whether they are goals of participation, social impact results, how resources are implemented, or all of the above. Weaving success metrics and tracking into the program design, ensures that you can optimize it for the long-term and evaluate what's working and what can be improved.
Choose the right nonprofit partners
This step may be done in concert with the goal setting step above, especially if your company envisions building a long-term deeper partnership with one or a few nonprofits. Nonprofits are not always set up operationally to track results in the way companies are used to doing, so it may be helpful to work with nonprofit partners to figure out what can be tracked and how results can be communicated among partners. Regardless of whether you involve nonprofit partners in the goal setting process, it is paramount to select the right nonprofit partners. Factors to consider include: mission/brand alignment, mutual understanding of expectations and resource allocation, match of employee skill set with nonprofit needs, willingness to invest in the partnership.
Support the program with dedicated staff
Dedicated staff oversight helps ensure that the program is nurtured and evolved over time and that the participating volunteers' time is used effectively. Active management of the program also demonstrates that the company values the program and is investing resources to assure its success. Knowledge management, capturing best practice and deeper relationship building with partner nonprofits are often overlooked benefits of having a dedicated staff managing volunteer programs.
Develop a portfolio of volunteer opportunities
A portfolio approach is a key differentiator between an employee volunteer program that just checks the box that a company has a program and a truly dynamic program that speaks to the interests, skills and capacity of a diverse workforce. BCG cites IBM's On Demand Community and Microsoft's Volunteer Manager website as rich examples of how to take a portfolio approach to volunteer engagement.
At BCG, a volunteer opportunity portfolio includes a mix of:
One-time activities (low time commitment, often seasonal like food drives)
Volunteering Days (organized group activities in the community)
Ongoing, Monthly Activities (longer-term time commitment for mentoring, project work and more skills-based activities)
Secondment or Temporary Transfer (loaning staff to nonprofit partners for a period of time with reduced salary)
Vacation of leave of absence (spend vacation time or longer leave working with a nonprofit)
To this list I would add:
Micro-volunteering (spending 15 minutes at a time performing digital tasks to support nonprofit needs)
Pro bono/skills-based service (taking on nonprofit projects alongside paid client work that require the same skills set)
What mix of volunteer opportunities does your company promote?
More Recent Articles