Here are the latest updates for sricaitanyamahaprabhu.planetiskcom@blogger.com
| | |
| --- | --- |
| | The Intensive care staff of the NHS Ealing hospital in London decided to open their heart and minds to Vedic culture. By far the spiritual medical tour has been Mayapur Worldwide's best tour till date. On my way back I kept asking Krsna why this tour was so extra special compared to any other we had conducted in the past. The answers came in many ways. We were serving the hands that heal. |
By Giriraj Swami
On Gita Jayanti, the day of the advent of the Bhagavad-gita, spoken by Lord Krishna to Arjuna, I reflected on Srila Prabhupada and how he addressed members of the Gita Pratishthan (Gita Foundation) in India, in 1976. The way Srila Prabhupada dealt with the conference was exemplary--and extraordinary--as I shall relate
Transcription and Editing : Vinod-Bihari Dasa Today we are concluding our seminar on brahmacarya.  We will conclude with Lord Rsabadeva's teachings to His sons described in the fifth Chapter of the fifth Canto. We will read the first verse of that chapter together. "Lord Rsabadeva told His sons: My dear boys, of all the living [...]
SB 03.24.19 Sin Authorities 2003-11-07 Lecture – Srimad Bhagavatam 3.24.19 Sin Authorities 2003-11-07 Los Angeles
SB 03.20.40-41 Above Good Ghost Eyes 2004-05 Lecture – Srimad Bhagavatam 3.20.40-41 Above Good Ghost Eyes 2004-05 Radhadesh
SB 03.20.38 Role Playing Spirit 2004-05 Lecture – Srimad Bhagavatam 3.20.38 Role Playing Spirit 2004-05 Radhadesh
SB 03.20.34 I Am The Best Back Scratcher 2004-05 Lecture – Srimad Bhagavatam 3.20.34 I Am The Best Back Scratcher 2004-05 Radhadesh

The Deities are riding Rajhastani elephants today!

These majestic carriers are signs of royalty and prestige and are thus quite befitting to Lord Krishna together with His direct expansions since from Him comes all wealth...
after all He possesses that opulence in its entirety.


Here's the slideshow:
an imperial parade of Their Lordships' beauty, fame and wealth on display at the Melbourne Mahaprabhu Mandir.

SB 03.20.29 Put Your Hand In The Fan 2004-05 Lecture – Srimad Bhagavatam 3.20.29 Put Your Hand In The Fan 2004-05 Radhadesh
Our next live broadcast with Vaisesika das will be on Saturday, December 18th at 7:30am for morning class. Please tune in at that time and enjoy an amazing class by our special guest!
Saturday's class will be entitled "Intergalactic Travel – Finding the Right Commander (The Real Guru)". We will try to have a chat window for all online viewers to ask questions during the class. Hare Krishna!
Hello Everyone,
night of the oxen
I wish you peace, in service to the Oxen,
Chuck
Chant
Hare Kṛṣṇa Hare Kṛṣṇa Kṛṣṇa Kṛṣṇa Hare Hare
Hare Rāma Hare Rāma Rāma Rāma Hare Hare
1967 December 17: "I think Krishna has brought me again in your country for the purpose of training you perfectly. Without education we cannot preach because a preacher has to meet many kinds of opposite elements."
Prabhupada Letters :: 1967
1968 December 17: "So far the Indian population is concerned, everyone is Krishna's part and parcel and we will pick up any person who is interested in going back to home, back to Godhead. I think that the Canadian people will be especially suitable for our membership."
Prabhupada Letters :: 1968
1972 December 17: "I am shocked to hear that. That is most disturbing to me. But I know that all big leaders are falling victim to sex-life. Now you have no power to instruct. One who is not following himself, how he can instruct others?"
Prabhupada Letters :: 1972
1974 December 17: "Regarding your proposal for preparing a film on the life and precepts of Sri Caitanya Mahaprabhu, I am ready to help with my men and I shall be glad to give direction but it is not possible for me to help financially."
Prabhupada Letters :: 1974
1974 December 17: "Now you are old, 60 years old, better retire from all enterprising activities and devote yourself fully for developing Krishna Consciousness. You can live with us anywhere in the world. That will not cost you at all."
Prabhupada Letters :: 1974
1975 December 17: "Lord Caitanya personally traveled all over India for six years. When he met big scholars he spoke philosophy, otherwise for the mass of people, kirtana and prasadam distribution. So continue this program, it is very pleasing to Lord Caitanya."
Prabhupada Letters :: 1975
1975 December 17: "A modern scientist believes there was no civilization before 3,000 years, our Bhagavatam was spoken by Sukadeva 5,000 years ago. There are so many contradictory things. We have our authority and they have their authority."
Prabhupada Letters :: 1975
1975 December 17: "Produce your own food grain, milk and vegetables, eat as much as absolutely necessary, but don't eat more. If there is time left over you can divert your attention but do not waste your time in any other thing except Devotional service."
Prabhupada Letters :: 1975
1967 December 16: "When I left your country I had very little hope to come back again. But Krishna informed me that I'm not going to die immediately; therefore, I have come back again to get inspiration of Krishna Consciousness from you all good souls."
Prabhupada Letters :: 1967
1967 December 16: "A Krishna Conscious person is never tired of working. This is the test of how one is advancing in Krishna Consciousness. Nobody becomes tired but wants to work more and more."
Prabhupada Letters :: 1967
1967 December 16: "There are only three persons there but each of you can work for 300 persons, so it is not the numerical strength that works, but it is Krishna Consciousness that works."
Prabhupada Letters :: 1967
1967 December 16: "Once a center opens it cannot be closed. I have given you a business idea namely manufacturing incense locally. Once you are successful in this you will get money more than your expectation and spend it for Krishna's service."
Prabhupada Letters :: 1967
1967 December 16: "Krishna did not allow you to do something that was not His plan. Krishna wanted that you must be engaged in organizing nice center. Jayananda is unique devotee. He paid you sincerely and therefore you found out a good place."
Prabhupada Letters :: 1967
1974 December 16: "I am very happy to hear of the large number of new devotees you are recruiting. That is the real fruit of our preaching work, when people come and join and help us to spread this Krsna Consciousness movement."
Prabhupada Letters :: 1974
1974 December 16: "The GBC meeting to be held in Mayapur will be held in my presence. As far as your proposals are concerned we shall discuss. If the GBC men can ever manage properly then I shall get some time for writing my books."
Prabhupada Letters :: 1974
1974 December 16: "We must make broader constitution of the management by GBC. But our GBC men are falling victim to maya. Unless this problem is solved whatever we may resolve it will not be very useful."
Prabhupada Letters :: 1974
Books are the basis.
The sastras teach
us about the holy names.
Sri Caitanya Mahaprabhu's
Sri Siksastakam
and many learned sages have given
us evidence of the absolute
nature of the names. Srimad
Bhagavatam has many chapters
to prove the truth
of the names of Krishna
as not different from
His form. Anyone who
doubts and commits
the namabhasa of Vedic truth
is doomed to
a fallen path and a
next life less than
a human. If we
chant sincerely based
on the sastras, our
path is auspicious
despite our other sins.
From
Bhajan Kutir #165
Greatings, again! If you'd like to get your hands dirty in getting the message out there to the world, I've made a small flyer which you can print out and distribute, or put on your local Temple notice boards. :) It's around 8MB.
(A common contention is that Lord Rama worshiped Lord Siva, and that this shows that Siva is superior to Rama. Some quotes from Srila Prabhupada, relevant to this topic, are given below.)
Giriraja: At one of the programs, somebody raised the question that we cited that Lord Siva is worshiping Krsna, that he is a Vaisnava. So that person replied that Lord Rama also worshiped Siva. So he wanted to know the explanation. Lokanatha: You explained yesterday. Prabhupada: Sometimes Krsna is chastised by mother Yasoda. So how is that? The Supreme Personality of Godhead is being chastised by mother Yasoda? Giriraja: He likes to be chastised. It's part of the relationship. Prabhupada: Similarly, He likes to worship His devotee. Sometimes the father takes the child on his shoulder. Does it mean the child is more important than the father? They say the Valmiki Ramayana, there is no such incidence as Ramacandra worships Siva. It is later on, interpretation. But even if He does so, what is the wrong here? Harikesa: That later-on Ramayana has caused some havoc. Prabhupada: Hm? Harikesa: That later-on interpretation? Prabhupada: Yes, the Saivaites, they want to make Lord Siva the exalted Supreme Person. In South India there is good propaganda. That is always going on. Lokanatha: When Lord Siva says in Puranas that mukti-pradapah sarvesam visnu... (sic) Prabhupada: Hm? Lokanatha: Purana, the same Lord Siva says there is no other liberated besides Visnu. Devotee: ...engagement, one devotee commented that the reason that Lord Rama worshiped Lord Siva was because He wanted to kill Ravana and Ravana was a devotee of Siva, so Lord Rama worshiped Siva in that respect. Prabhupada: Hm? What is that? Harikesa: He said that because Lord Siva was, ah, excuse me, Ravana was a devotee of Lord Siva, that in order that Lord Ramacandra could kill Ravana, He worshiped Siva. Kirtanananda: He wanted to take permission of him, so they say. Rama wanted to take permission from Siva... Prabhupada: So Siva is so rascal that he gave permission? That means they are trying to prove Siva is a rascal. (devotees laugh) Because he gave permission to kill his devotee. Then what is the use of his, of one becoming Siva's devotee? If such a rascal that one can take his permission to kill his devotee, so what is the use of becoming a devotee of such a rascal? Huh? Harikesa: He protected Banasura. Prabhupada: Huh? What is that? That means that proving that Siva is a rascal. He gave permission to kill his devotee. Then what is the use? Then nobody should become Siva's devotee. That is the conclusion. Because he gives permission to somebody else to kill his devotee. They are trying to prove Lord Siva is a rascal. What do you think? Huh? If I want your permission, please give me your permission, I shall kill your son, and if you say, "Yes, I give my permission," then are you not a rascal? By this example they are making Lord Siva a rascal, that he has no common sense even. Indian man: (Hindi) Prabhupada: No, if this proposition is there, that Lord Siva gives permission for killing his devotee, then who will become his devotee? Huh? Is it not? Indian man: Yes. Prabhupada: No sane man will become his devotee. All the manufactured foolish statements, just see. Any commonsense man will immediately say, "Then Siva is a rascal; he cannot give protection to his devotee." What do you think? Huh? Kirtanananda: Of course, Srila Prabhupada, does one have to give protection to their devotee if they break the law? Just like if you have a child, and he murders someone, isn't he supposed to be punished? So if someone goes against the Supreme Personality of Godhead, even if you are a devotee, shouldn't Siva concur? Prabhupada: No, no. That is another thing. This proposal, that because Lord Ramacandra approached Lord Siva to kill Ravana, and he gave permission, although Ravana was his great devotee. Then what is the use of becoming devotee of Lord Siva? He gives permission. Huh? Is that very reasonable proposal? If I ask your permission that I shall kill your son, will you give permission? No. Then? So Lord Siva gives permission to Lord Ramacandra, "Yes, You can kill Ravana," then what is the use of becoming his devotee? Harikesa: I think Dr. Patel would say that it's not fair, you have fired the opposition. Prabhupada: Eh? Harikesa: It's not fair. You have completely destroyed the opposition. (Prabhupada laughs) There is no question of fight. Prabhupada: The actual fact is that Lord Siva did not give permission, but he did not go to protect Ravana, because he knew that it was impossible to give him protection. That is summarized in Bengali, rakhe krsna mare ke, mare krsna rakhe ke. If Krsna kills somebody, wants to kill somebody, nobody can give him protection. That is the conclusion.
>>> Ref. VedaBase => Morning Walk -- December 23, 1975, Bombay
Devotee (6): Srila Prabhupada, I was asked a question by a man. He asked that Lord Siva... Lord Ramacandra was praying to Lord Siva in the Ramayana, and so he's taking Lord Siva as being God. And we didn't have a clear answer to him. Prabhupada: Hm? Devotee (6): Could you just instruct us on this matter, why... Prabhupada: Lord Ramacandra worshiped His devotees. Just like sometimes Krsna worships Radharani and touched His feet..., Her feet. That does not mean that Krsna... Just like Krsna was tolerating ear pulling by mother Yasoda. That does not mean that mother Yasoda is the Supreme. Hm? Krsna was carrying the wooden shoes of Nanda Maharaja. So that does not mean Nanda Maharaja is greater than Krsna. It is Krsna's pleasure. Just like sometimes a father takes the son on the shoulder, carries. Does it mean the father is inferior than the son? So this is third-class man's conclusion. They do not know what is Krsna, what is Rama. Krsna says that aham adir hi devanam [Bg 10.2]. So He is the origin of Lord Siva. So how Siva can be the Supreme? We have to consult sastra. Krsna does not say that Siva is Supreme. So if a third-class man says Siva is Supreme, we have to accept it? We are preaching Krsna consciousness. Whatever Krsna says, that is Supreme, not a third-class man's version. Is it clear? Yes. We should not take a third-class, fourth-class man's version. We should take from the sastra.
>>> Ref. VedaBase => Morning Walk -- October 5, 1975, Mauritius
The demon Ravana was a fierce figure before the demigods, but when he was before Lord Ramacandra he trembled and prayed to his deity, Lord Siva, but to no avail.
>>> Ref. VedaBase => SB 3.18.13
The demon Ravana was very powerful, but when Krsna in the form of Lord Ramacandra desired to kill him, no one could protect him. Ravana was a great devotee of Lord Siva and was praying to Lord Siva, "Please come save me from this danger." But Lord Siva did not come. Then Parvati, Lord Siva's wife, asked Lord Siva, "What is this? He is such a great devotee and has served you so much, and now he is in danger and is asking your help. Why are you not going to help him?" Then Lord Siva replied, "My dear Parvati, what shall I do? I cannot give him protection. It is not possible. Why shall I go?"
>>> Ref. VedaBase => TQK 7: Dangerous Encounters
Lord Rama, the Personality of Godhead Himself, sometimes worshiped Lord Siva.
>>> Ref. VedaBase => SB 4.24.30
Lord Ramacandra, whose lotus feet are worshiped by Lord Brahma and Lord Siva, had assumed the form of a human being.
>>> Ref. VedaBase => SB 9.10.12
"[Lord Siva addressed his wife, Durga:] 'O Varanana, I chant the holy name of Rama, Rama, Rama and thus enjoy this beautiful sound. This holy name of Ramacandra is equal to one thousand holy names of Lord Visnu.'
>>> Ref. VedaBase => Madhya 9.32
SB 03.20.25 The Super Watch Maker 2004-04
Lecture – Srimad Bhagavatam 3.20.25 The Super Watch Maker 2004-04 Radhadesh (evolution)
SB 03.20.21-22 Brahma's Pigeon Problems 2004-05-25
Lecture – Srimad Bhagavatam 3.20.21-22 Brahma's Pigeon Problems 2004-05-25
Helena from Belfast wrote and asked whether I have a good Christmas fruit cake recipe.
I sure do. Here is an absolute beauty, published in my very first cookbook 'Great Vegetarian Dishes'. It was originally given to me by Hari Bhakti Dasi who got it from her mother. The secret of its moist texture, without any eggs, is the mashed pumpkin or potato. Try it - you won't be disappointed.
Fruit Cake
This traditional fruitcake is ideal for weddings, birthdays, or any special occasion requiring a luscious, rich cake. It can be kept for several weeks after baking.
PREPARATION AND COOKING TIME: 2 1/4 - 2 3/4 hours, YIELD: one 20 cm (8-inch) round or square cake,
1 cup smoothly mashed pumpkin or potato, 1 tablespoon melted butter, 1 cup self-raising flour, 1 cup plain flour, 450g mixed dried fruit, 1 cup sugar, 225g butter, 1 tablespoon golden syrup or dark corn syrup, 1 cup water, 1 teaspoon bicarbonate of soda, 2 tablespoons yogurt.
Line the base of a 20 cm (8-inch) cake tin with greaseproof paper. Dip a pastry brush in melted butter and brush the sides of the tin to give an even shine.
Sift both flours into a large bowl and set aside.
Combine the fruit, sugar, butter, syrup, and water in a heavy 4-litre/quart saucepan. Heat slowly over low heat, stirring constantly until the sugar dissolves. Raise the heat and allow the mixture to boil. Reduce the heat and simmer for 20 minutes. Remove the saucepan from the heat, mix in the bicarbonate of soda, and set aside to cool.
When the mixture has cooled to room temperature, fold in the yogurt and mashed potato or pumpkin. Beat the mixture until smooth.
Gently fold in the flour mixture with the fruit mixture, combining carefully.
Spoon the combined mixture into the prepared cake tin. Smooth out the mixture. Cover the tin with aluminium foil (or brown paper secured with string) and bake in a moderate oven 180°C/355°F for 1 1/2 - 2 hours. The cake can be uncovered for the last 1/2 hour of the cooking. To test whether the cake is done, insert a skewer through the centre of the cake. The cake is cooked if the skewer comes out clean. If the cake is done, remove it from the oven, allowing it to cool in the tin. (This will stop the cake from breaking).
When the cake is cool, carefully remove it from the tin and peel off the greaseproof paper. Now the cake is ready for icing, if desired.
www.sdgonline.org.
"Criticizing the Vedic Scriptures:
"The Vedas are the only evidence:
"Srila Haridasa Thakura said, "My Lord! To criticize the Vedic literature and other literatures in pursuance of the Vedic version is a serious offense that denies a person the ecstasy of pure devotion.
"The sruti-sastra (the Vedic literature), which includes the Upanisads, the Puranas and other corollary scriptures, has emanated from the Supreme Lord Krishna's own lips. This literature establishes and proves the spiritual truth. It contains transcendental knowledge that is understood beyond the range of the material senses, and this knowledge is understood by Lord Krishna's grace alone. The senses are capable of experiencing only material objects; transcendence lies beyond their bounds. The science of Krishna consciousness is completely spiritual; hence it is transcendental. That knowledge of transcendence has been mercifully given by Lord Krishna in the Vedic literature for the ultimate benediction of humanity. The word veda actually refers to the spiritual knowledge as it is received in the proper authorized disciplic succession, or parampara.
"Human beings are born with four natural faults: they commit errors, they are subject to illusion, they have the propensity to cheat, and they have imperfect senses. Everything they do is tainted by these faults. Vedic literature is free from any mistakes or discrepancies; it is the only means to spiritual salvation. The transcendental Vedic knowledge was revealed by Lord Krishna and was afterward compiled by the sages. The sages received this knowledge in samadhi, or in total spiritual absorption."
We are so fortunate to have Prabhupada's books. At an advanced age he undertook the herculean task of translating Bhagavad-gita into English and then began translating the cantos of Srimad-Bhagavatam, with full purports. He knew that he would need such substantial proof in order to carry out his spiritual master's mission to preach to the Western-speaking countries. Now, many years later, Prabhupada's books are present in many university and public libraries and millions of people's homes. They are taken as absolute knowledge and are read with great interest by the practitioners. Every day we should read something from these books to keep our senses enlivened and to keep our faith strong.
Books are the basis.
The sastras teach
us about the holy names.
Sri Caitanya Mahaprabhu's
Sri Siksastakam
and many learned sages have given
us evidence of the absolute
nature of the names. Srimad-
Bhagavatam has many chapters
to prove the truth
of the names of Krishna
as not different from
His form. Anyone who
doubts and commits
the namabhasa of Vedic truth
is doomed to
a fallen path and a
next life less than
a human. If we
chant sincerely based
on the sastras, our
path is auspicious
despite our other sins.
www.sdgonline.org.
I didn't write my poem
this morning. I was too
tired. Now I'm awake,
but it's not my time to call
on Krishna. That's for the
morning.
Krishna is God.
You may make Him in
an experimental poem, say
"God is a fistfight and
He always wins."
Krishna is the anxiety of packing
my suitcase for today's seven-hour trip to Philadelphia.
Krishna is not going to be explicit
sex in this poem or last night's
TV crime show.
Krishna is the section I have largely memorized
about Vyasadeva not writing about
Krishna and Narada chewing him
out, but saying, "You
know better,Vyasa.
You know everything."
Just why Vyasa did not remember directly
about Krishna is not clear. He had
to wait until it was the right time.
He realized what was lacking at the exact
moment Narada came
to tell him.
Songs without bhakti are
useless.
Vyasa knew what to do,
and at the next opportunity
he composed Srimad-Bhagavatam and
all the world now has it.
But most people don't know how to value it.
They are slaves to their senses. They are speculators.
We talked about the section, and I think I am mostly ready
to talk about it but I may slip up.
Just remember the points you read and
repeat them, even
if you don't realize them.
Just repeat like a dummy.
It will come out all right I think
because you remember Vyasa
asked Narada about his life and
you can talk about that and
then Narada flew away.

Then Vyasadeva was left alone,
and he meditates and sees Krishna
just as Narada did earlier.
And he sees the material energy
and the jiva, and
he composes all the cantos,
all incarnations.
I'll just have to bluff it if I
don't get the picture.
Suta is telling the stor,y and he starts out
and that's when you can stop.
It may be awkward, but
you'll get something out.
www.sdgonline.org.
Soon we will leave for Philadelphia. We will stay in a hotel because it is too crowded in Haryasva's quarters. Baladeva is encouraging me to rest so that I will have energy and not make a groggy presentation at the Vyasa-puja. Have pepper, as in Art Pepper. There is snow on the ground. The children were throwing powdery snowballs at each other while waiting for the bus. What is it like to be an eight- or twelve-year-old waiting for the yellow school bus and a day of lessons and play? I got a small stack of email letters. We'll answer them later in the day, or maybe another day. I haven't written a poem yet today. Today I am speaking on visual Skype with some devotees from Russia. Some of them don't speak English. Krishna is the emperor of all the wealth. I recite with my small faith. He can dress in cloths in warm weather, and He will be comfortable. But it doesn't affect Him. It's just for our mental attitude that we may think, "Oh, it is freezing. Krishna should wear a knit hat and a heavy wool chadar and something around His waist." But we don't overdo it because we keep it in mind that Krishna and Radharani don't need big furry clothes. They stay indoors, and it is about 68° F [20° C] here. They have Their own love to keep Them warm. What do we care if icicles form? They are yugala-kishora.
We don't have a dog. We would have to take care of him. Krishna, Krishna, sleigh-bells ring. We don't cut down the fir tree on Christmas. Christmas was poignant. Christ is born. Nowadays, it is done more openly. The messiah has arrived. They know that Christ will kill Herod just like Krishna killed Kamsa. Or did Christ kill Herod?
I just spoke on the Skype to devotees in Moscow. It was wonderful. There are a very few devotees in Russia who for many years have been working hard to translate, print and distribute my books. One of the leading devotees was Himavati dasi, my initiated disciple, who passed away last year in a car accident. She was a great loss to my preaching. The leaders now are one disciple named Isana dasi and her husband Alexy, who work together to do all the aspects of book production. In the year from the December 2009 to December 2010 they sold 35,000 books.
It was so nice and heart-touching to see and talk with the devotees gathered in the room. I said, "Are you in Vrndavana?" They all laughed loudly. "No, we are in Moscow!" I asked if Moscow was like Vrndavana and they said, "Yes." I told the story of Prabhupada's visit to Moscow from Srila Prabhupada Lilamrta. One woman spoke up and said she was seven years old and standing on a queue at the Lenin mausoleum when Prabhupada was there. She said he looked very old. Everyone on the line turned and looked at him, and she did too. She remembers it. She is now a disciple of Indradyumna Swami. How wonderful! I was thrilled to hear it. One girl said she was thankful that I "charged" her by appearing on Skype. I said, "You have charged me." No, she insisted, "You have charged me." They asked me if I would be going to India soon. I said I get headaches, and it's hard for me to travel. I said I wouldn't be going to India in 2011, but maybe after that. I completely surprised myself by saying that, but they so inspired me I wanted to say that I wanted to be with them sometime in the future. The marriage of Alexy and Isana is a great blessing on me. Alexy wished me good health and long life, "but most of all, Isana and I wish you (and often pray that you will attain) the ocean of the nectar of the holy name." Who could wish for such better disciples?
Here is a letter I received from Caitanya Candradoya, who is visiting me in New York. "This year in GN Press we saw some improvements. Of course it would be nice to see some more committed, even part-time distributors, but we have made some first steps and four books were printed this year: Soul Eyes, Japa Transformations (hard- and soft-bound), and just now a second volume of My Dear Lord Krishna: A Handbook of Prayers, and also 108 Japa Poems. Of course, we published your journal every day without fail, which is a large paperback every week, effectively. I know we cannot beat sales in Russia, where GN Press sold 1600 books in two months for the Vaisnava festivals, but we have distributed quite a few Japa Transformations. Your good friend Suresvara Prabhu had distributed rather a few copies, Lilavatara and Syama-gopa-rupa did so well, and we sold quite a few at Bhaktivedanta Manor and the Bhaktivedanta Library services at Radhadesh, Europe. Maybe some of your other disciples should be encouraged to get a dozen or so books to sell or give as gifts to devotee friends.
"GN Press has also started putting your books in Kindle Amazon format, over 40 titles of your current and back print are available in Kindle's store, (which sells more than all Amazon.com shop in paper format, and Amazon has about an 80% share of the online market. For this December to date we have sold 35 books, not much but it should increase as we add more books to your collection. You have a personal-author page on Amazon and over 164 volumes are listed there, most are available. All your published EJW volumes are available there, and also in the Kindle format. Just to mention that a majority of your books are available in Google books, are searchable and downloadable in e-book format from the sdgonline.org home page and also from this week's searchable and all the libraries that use Google books in cataloging, majority I was told."
SB 03.20.18 Cycles Of Ignorance 2004-05-24
Lecture – Srimad Bhagavatam 3.20.18 Cycles Of Ignorance 2004-05-24 Radhadesh
SB 03.19.38 Krishna Gives You What You Actually Need 2004-04-25
Lecture – Srimad Bhagavatam 3.19.38 Krishna Gives You What You Actually Need 2004-04-25 Radhadesh
SB 03.19.35-36 No Appreciation Only Exploitation 2004-04-23
Lecture – Srimad Bhagavatam 3.19.35-36 No Appreciation Only Exploitation 2004-04-23 Radhadesh
SB 03.19.34 All Bestowed By Me 2004-04-21
Lecture – Srimad Bhagavatam 3.19.34 All Bestowed By Me 2004-04-21 Radhadesh
SB 03.19.33 Servant Of Krishna, Everything 2004-04-20
Lecture – Srimad Bhagavatam 3.19.33 Servant Of Krishna, Everything 2004-04-20 Radhadesh
SB 03.19.15_All Good Krishna_2004-04
Lecture – Srimad Bhagavatam 3.19.15 All Good Krishna 2004-04 Radhadesh (Astrology)
SB 03.19.14_Civilization: I Am Alive, I am Good. You are Dead, You are Bad_2004-04
Lecture – Srimad Bhagavatam 3.19.14 Civilization: I Am Alive, I am Good. You are Dead, You are Bad 2004-04 Radhadesh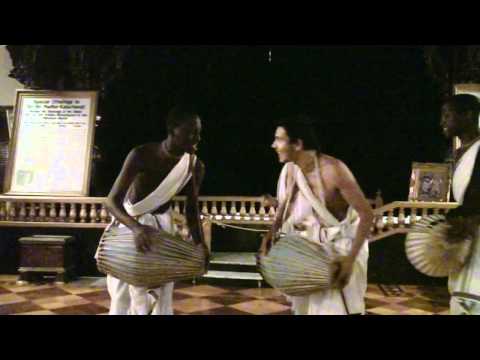 After a brief introduction by Kish, the boys from The Surya Summer Tour performed a Mridanga Drum presentation while visiting the Dallas temple.  
Dallas, TX
2010-07-18 
It was a simple and sweet festival at the temple on Thursday, December 16th as spiritualists gathered to honour the advent of the Bhagavad-gita. Over five thousand years ago, Lord Krishna spoke the Bhagavad-gita to Arjuna, discussing the fundamental principles of life.
The Gita lucidly explains the nature of consciousness, the self and the universe. It contains both the essence of India's spiritual wisdom and the answers to questions that have been posed by philosophers for centuries.
An intimate setting was created and over a three hour span, the Sanksrit verses of the Gita were collectively read by the assembled group. Sometimes, the simplest festivals can be the sweetest!
| | |
| --- | --- |
| | ISKCON News invites videographers to contribute a once-off video material or to become a regular reporter for ISKCON News. |
| | |
| --- | --- |
| | Kulimela Australia will be drug and alcohol free and will be packed with productive seminars focusing on Health and Medicine, Business and Management, Spiritual and Community Development, and Arts and Entertainment. |
| | |
| --- | --- |
| | The British newspaper The Guardian held a "taste contest" in which the New Gokula ahimsa milk contested against regular shop milk. The outcome has been pretty self-explanatory. |
| | |
| --- | --- |
| | The students of Sri Mayapur International School held their Annual Sports Day on December 16th. The event was well attended by parents, community members and special guests. |
| | |
| --- | --- |
| | On December 14th the European Court of Human Rights ruled against the Republic of Serbia and in favor of Zivota Milanovic, a Krishna devotee, who was attacked five times between 2001 and 2007 because of his religion. The assailants beat him with baseball bats, stabbed him, cut his sikha off and engraved a cross onto his head with a knife. |
Russian/English
B. Adrian asks how to continue advancing even in face of bad experiences in ISKCON and Bn. Ildiko wants to know why Krsna created dinosaurs?
It is always better keeping away from mundane politics but whilst the focus has been on the increase in student fees the UK government has managed with little opposition to get rid of a life-line for many disabled people that being the Independent Living Fund (ILF). This enables those who normally cannot access services/social events [...]
The other week the engine management light came on in the care and there was an acute loss of power reducing it to a near crawl; making a call to a friend who runs a garage I made my way wondering how much it will cost and what the fault was. Explaining that it is [...]
There is always a special buzz in the air when Toronto's vibrant Hare Krishna community welcomes back our dear friend, Vaisesika das back to our temple. A disciple of Srila Prabhupada, and a mentor to so many of us in Toronto and around the world, we are always looking forward to his visits. From inspiring classes and hitting the streets with spiritual books, to the rip-roaring kirtans, Vaisesika das keeps us all on our spiritual toes!
We are excited to announce some of the programs and events that you and your family are welcome to take part in:
All devotees are welcome to join Vaisesika das as we collectively hit the streets with our beloved spiritual books with the goal of sharing our beautiful spiritual heritage with the public. Stay tuned for more information!
You won't want to miss this opportunity to dive deeper into melodious kirtan with Vaisesika das. We will explore some of the beautiful chants of our Vaisnava tradition and the mood will be certainly be sweet. Join us for what will surely be a very special evening!
Our weekly Sunday extravaganza will include a special class by Vaisesika das. Toss in some amazing kirtan and mouth-watering vegetarian feast and your Sunday should be booked!
Please share your realisations with other devotees from around the world...simply send me an introduction email and I will be happy to make you a member:

rasa108@gmail.com

ys

Rasa Rasika dasa
Life is for the glorification of topics on Hari. If that is stopped, then what need is there to carry on life.
- Bhaktisiddhanta Sarasvati Thakura
More Recent Articles